Crossdresser Bra Collection

Looking for the perfect crossdresser bra? DressTech has a large selection of pocketed bras for the crossdressing, drag, and transgender communities. Each crossdresser bra features sturdy construction, pocketed cups, and special features to keep your silicone breast forms secure. From seductive lace, to sheer cups, you're guaranteed to find something that makes you feel sexy and confident. Don't forget to also check out our cleavage products. With proper application of tape and contour makeup, it's possible to create realistic cleavage.
Not sure where to start? Expand the boxes below, or call 844-623-7467 to speak with a factory-trained breast form fitter.
Crossdresser Bra Fitting Guide
Step 1: Determine your band size.
Measure your chest circumference approximately two inches below the nipples. Round the measurement to the nearest whole number of inches. Then, add an additional 4 inches if you got an even number. Add an additional 5 inches if it was an odd number. This is your bra band size.
Example: If you measured 32.25″, you would round to 32″ and add 4 more inches to get 36″. If you measured 34.75″, you would round to 35″ and add 5 more inches to get 40″.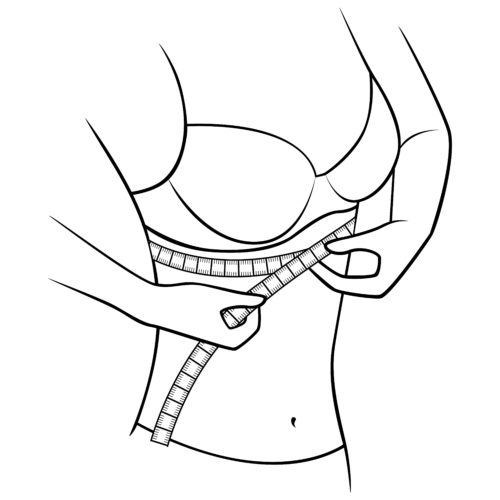 Why is this so confusing? Well, bra sizing was originally measured across the fullest part of the breast. Then, after WWII, the whole world switched to measuring just beneath the breast. However, US bra manufactures refused to adjust their bra sizing, so we have to add 4 or 5 inches. The "Plus 4" method was devised as a temporary fix that has persisted to this day.
Step 2: Determine your desired cup size.
What cup size would you like to achieve? Consider the following to get you into the ballpark:
A or B cup looks natural on a slim figure and won't attract too much attention.
C or D cup looks attractive and balanced on average body types.
DD or larger tends to look best on larger, curvy figures.
The best cup size is a matter of personal preference; there's no right or wrong answer. However, smaller breasts are more comfortable to wear for extended periods and may attract less attention when trying to pass in public. On the other hand, larger breasts will make your sexy outfits pop. Think about your habits and goals, then pick a cup size that works for you.
Once you've determined your band and cup size, you're ready to shop for your crossdresser bra.
How to Create Stunning Cleavage
First, you'll need to pull your natural breast tissue together to form some cleavage. This may be accomplished with skin-safe cleavage tape, or a self-adhesive cleavage bra. You'll find that the cleavage bra is more comfortable, while cleavage tape achieves more aggressive results.
Next, you'll apply contour and highlight makeup to make your cleavage appear even deeper.
For more detailed instructions, check out our cleavage kit or Diana's tutorial on Youtube.