Crossdresser Shoes and Fabulous Drag Queen Heels
Diana Vandenburg
Everything you need to know about crossdresser shoes, including how to walk in crossddresser heels, size charts, and must have drag queen heels. Plus, Diana shares her favorite crossdresser high heels and provides tips on how to break in new crossdresser heels.
Mens to Womens Shoe Size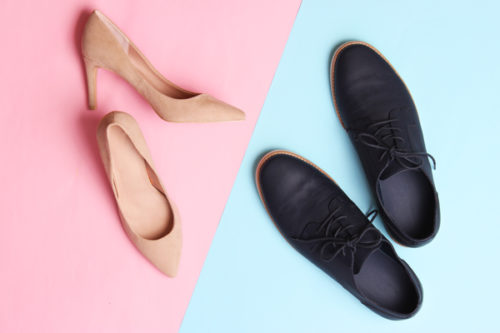 Women's shoe sizes run approximately 1.5 larger than Men's shoe sizes. For example, a Men's size 10 is equivalent to a Women's size 11.5. Use the following chart to find your women's shoe size.
Size Chart
| US Men | US Women |
| --- | --- |
| 5 | 6.5 |
| 6 | 6.5 |
| 7 | 8.5 |
| 8 | 9.5 |
| 9 | 10.5 |
| 10 | 11.5 |
| 11 | 12.5 |
| 12 | 13.5 |
| 13 | 14.5 |
Where To Find Large Crossdresser Shoes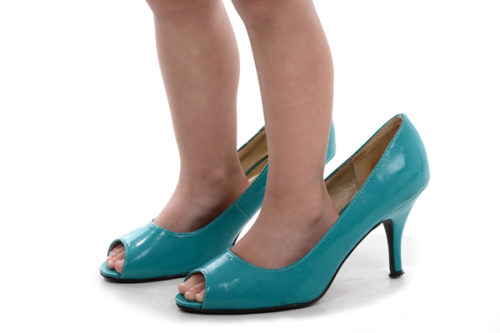 Male-to-female crossdressers tend to have larger feet than our female counterparts. For example, average male feet range from 9 Men's (10.5 Women's) to 12 Men's (13.5 Women's), yet very few Women's shoes are available in sizes above 9 Men's (10.5 Women's). Where can you find gorgeous crossdresser shoes in larger sizes?
DressTech offers the largest selection of feminine crossdresser shoes, crossdresser high heels, and boots. We also have an enormous selection of platform dance shoes, and glamorous drag queen heels. Choose from thousands of incredible crossdresser heels, in sizes up to Men's 15.5 (Women's 17)!
How To Walk In Heels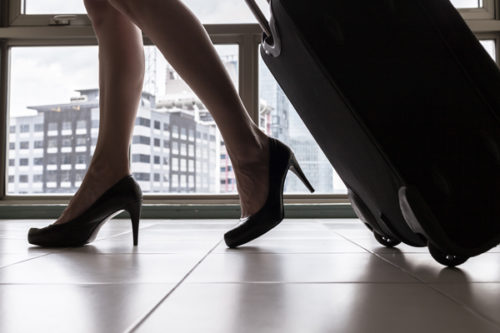 Baby Steps: Shorter steps will boost your balance and control. You can lengthen your stride later, when you become more comfortable in heels.
Heel-First: When beginners feel unbalanced or insecure, they sometimes resort to a flat-footed stride. However, you should strive to land on the heel and roll off the toe, just like you do with normal shoes. You're gait will instantly look more natural!
Posture: High heels shift your center of gravity and posture. Focus on being tall and correct posture will follow.
Walk On A Line: Plant each step directly in front of the previous, as if walking on a narrow line. For practice, find a seem in your flooring or put down some masking tape, then practice walking on that line.
Rhythm – Find a comfortable rhythm and try to move with it. Keep your hips loose and allow them to sway in a figure eight pattern. After you become comfortable with this movement, you can exaggerate it for a super model stride!
Practice: Like any worthwhile skill, practice makes perfect. Wear your crossdresser heels around the house until you feel more confident in them. Visit wikihow.com for more tips on how to walk in high heels.
How to Find Comfortable Drag Queen Heels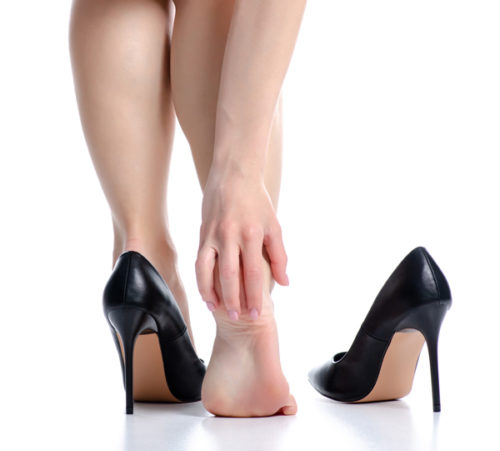 Drag queen heels shouldn't kill your feet! It's important to start with a proper fit. Just remember that the most gorgeous pair of heels won't look so great if you're limping home at 1am. The most sexy heels are definitely the ones that allow you to dance all night and stride with confidence.
Stick to a height that you can handle. One study found that a 3" heel puts 76% of your weight on the balls of your feet, compared to only 22% for a 2" heel. If you're new to crossdressing or planning a long night out, then choose crossdresser shoes with a shorter heel length.
When trying on shoes, pay close attention to pressure points and rubbing. A little bit of rubbing can easily turn into a painful blister! Try to avoid pointy toed shoes because they tend to smoosh toes together. Also watch out for uncomfortable straps.
Follow the instructions below to break in new heels
How to Break In New Crossdresser Heels
New crossdresser heels may be stiff and uncomfortable, but they'll feel better after you break them in. Fortunately, heels generally break-in quickly due to their light-duty construction. Often, it is sufficient to wear your new pair of crossdresser heels around the house for a few days until you are satisfied with the fit and comfort. During the break-in period, feel free to wear socks; they may look strange, but socks will reduce blisters and discomfort.
For a faster break-in, try gently heating problem areas with a blow dryer, and then immediately walk around while they cool. Most shoes stretch more easily when warmed, but too much heat may damage them. The key is to warm the shoes until they are warm to the touch, but not too hot.
Nude Heels for Longer Legs
Consider wearing nude heels short skirts, or any outfit that emphasizes bare legs. Nude heels provide an illusion of longer legs.
Traction Tip
Unlike athletic shoes, high heels aren't built for traction. In fact, some styles are downright slippery! Often, traction improves after the bottoms have become scuffed through normal use. However, you may accelerate this process by rubbing them with sand paper.
Must Have Drag Queen Heels
Pumps
Diana recommends owning at least two pairs of these timeless crossdresser shoes! Black suede or leather is a safe go-to for nearly any outfit. When trying to emphasize the legs, wear nude pumps to make your legs look even longer.
Stiletto
A stiletto heel is long and thin to the extreme. It is very appropriately named after the stiletto dagger. These seductive heels are difficult to walk in, sink in grass or dirt, and sometimes damage wood floors and carpets. They're not a wise choice for your first crossdresser heels, but may be revisited after you're comfortable strutting in more tame crossdresser high heels.
certainly not recommended for your first drag queen heels, t it's hard to resist owning at least one pair!
Sandals
Sandals and open-toed crossdresser high heels are a great choice for summer. Don't forget to paint your toes! Sandals come with nearly unlimited strap designs so you will find plenty of opportunity to express your style.
Mary Jane
This comfortable classic features a broad toe box, low heel, and single strap. Mary Janes are traditionally worn with socks or pantyhose, and a dress or skirt with blouse. Mary Jane crossdresser heels may be just the ticket for vintage looks.
Flats
Believe it or not, but women don't always wear 4" high heels! You might consider leaving your crossdresser high heels at home for casual lunches or daytime shopping.
Boots
Boots are practically a necessity for fall fashion and also work well for evening looks. From ankle boots to thigh-highs, boots can make a bold fashion statement.
Diana's Favorite Crossdresser High Heels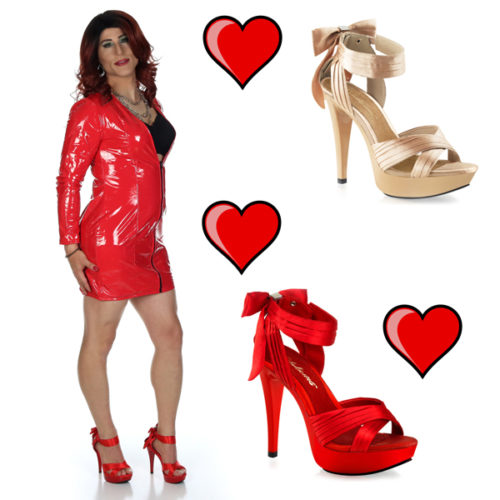 What are my favorite crossdresser shoes? I love these cocktail shoes so much that I bought a second pair! I usually wear the nude color because it seems to match more of my outfits, and because they make my legs look longer. However, sometimes I wear my red crossdresser high heels for a bold splash of color. I don't know why, but I found these to be super comfortable. Plus, who doesn't love the bow detail?