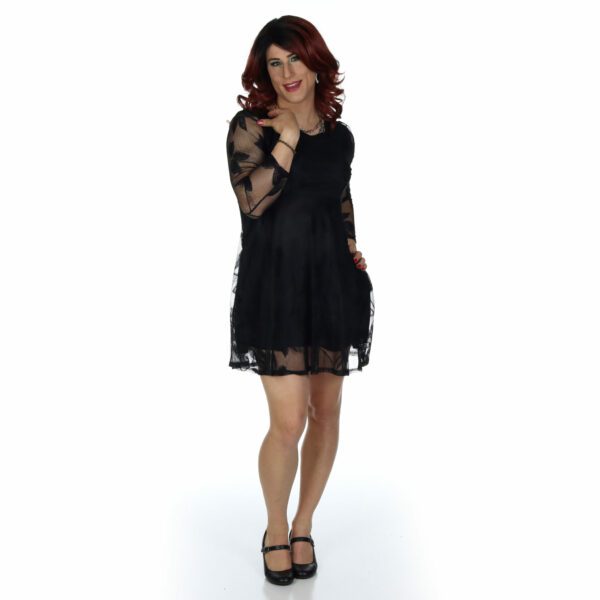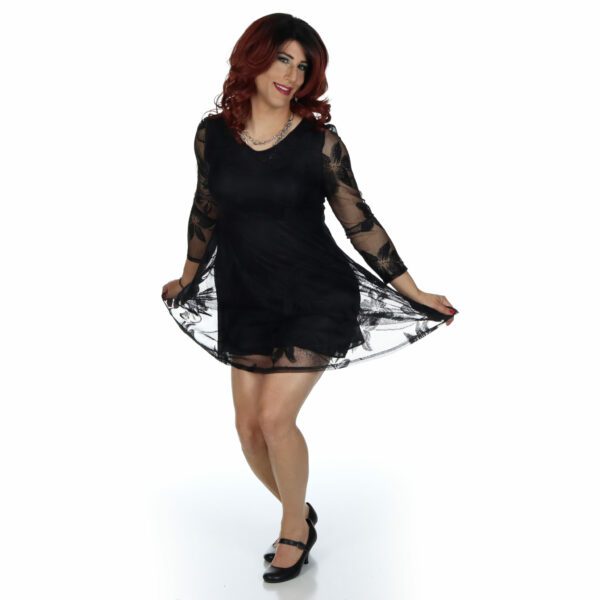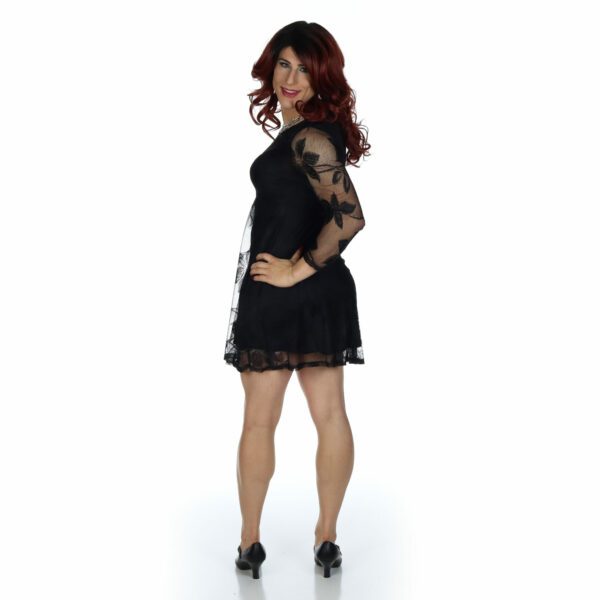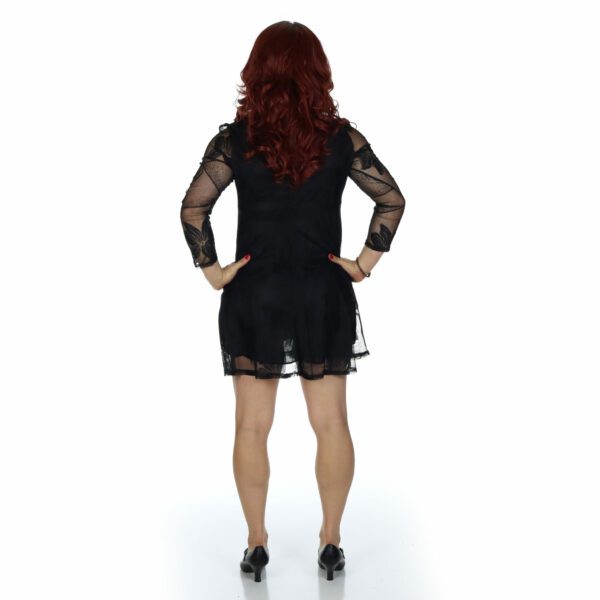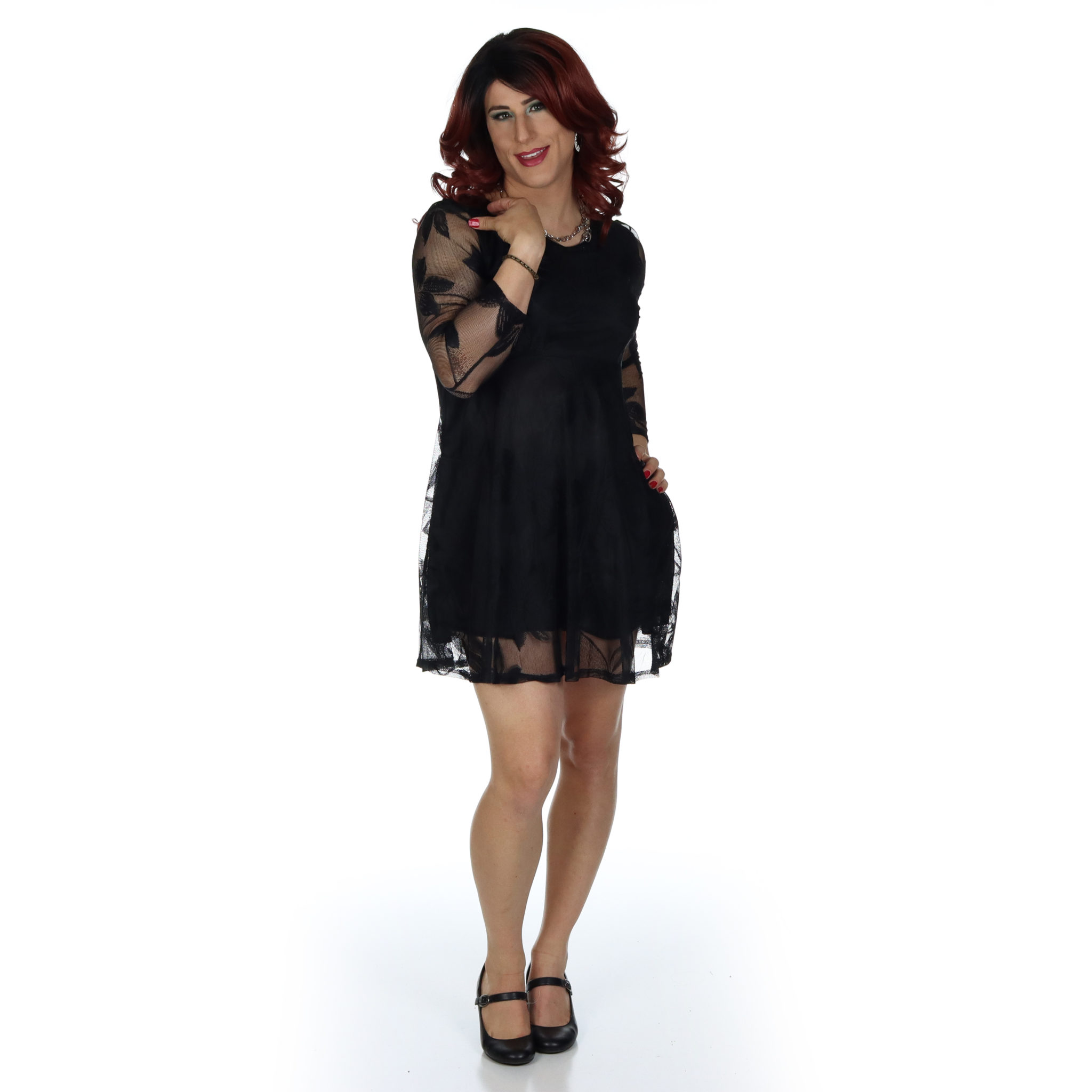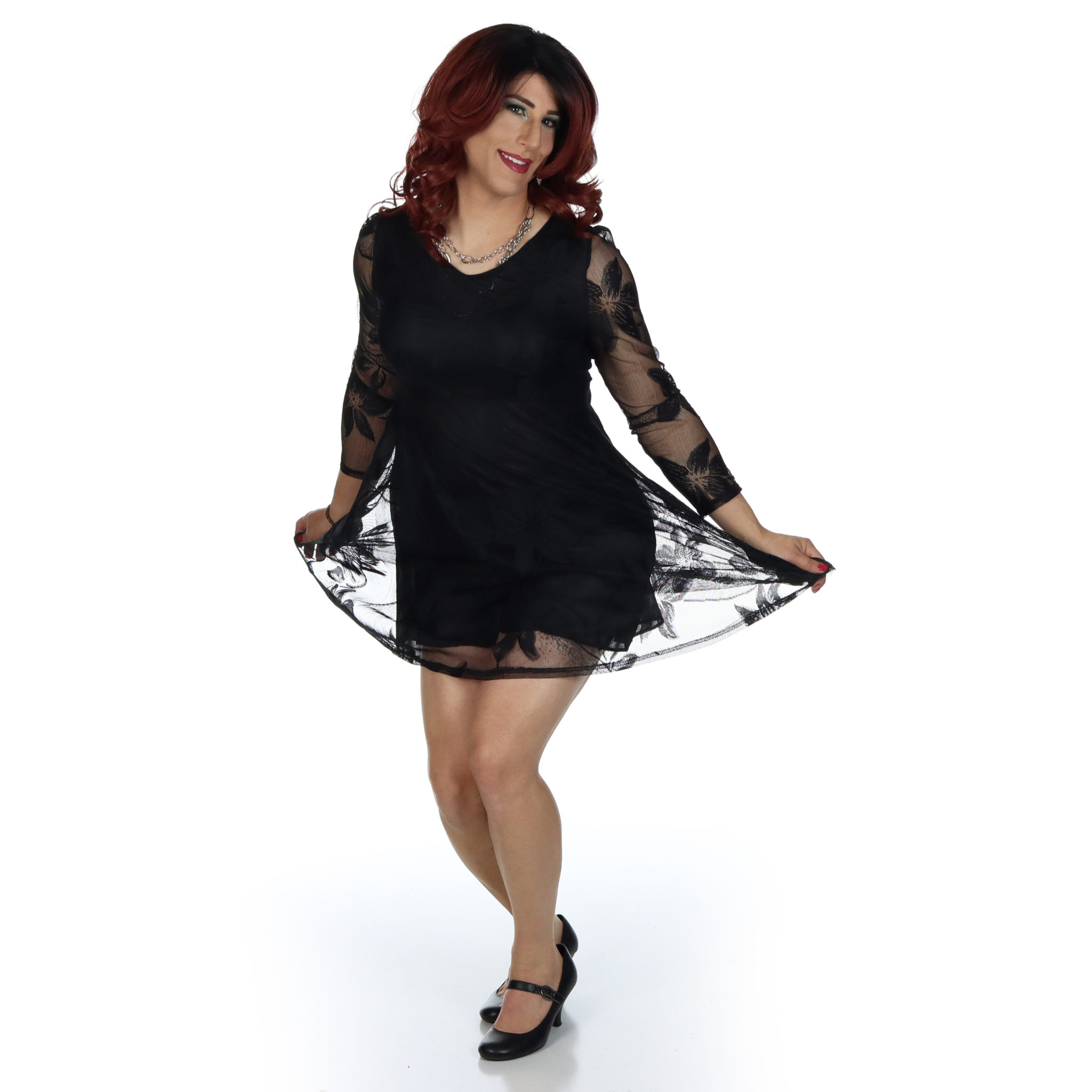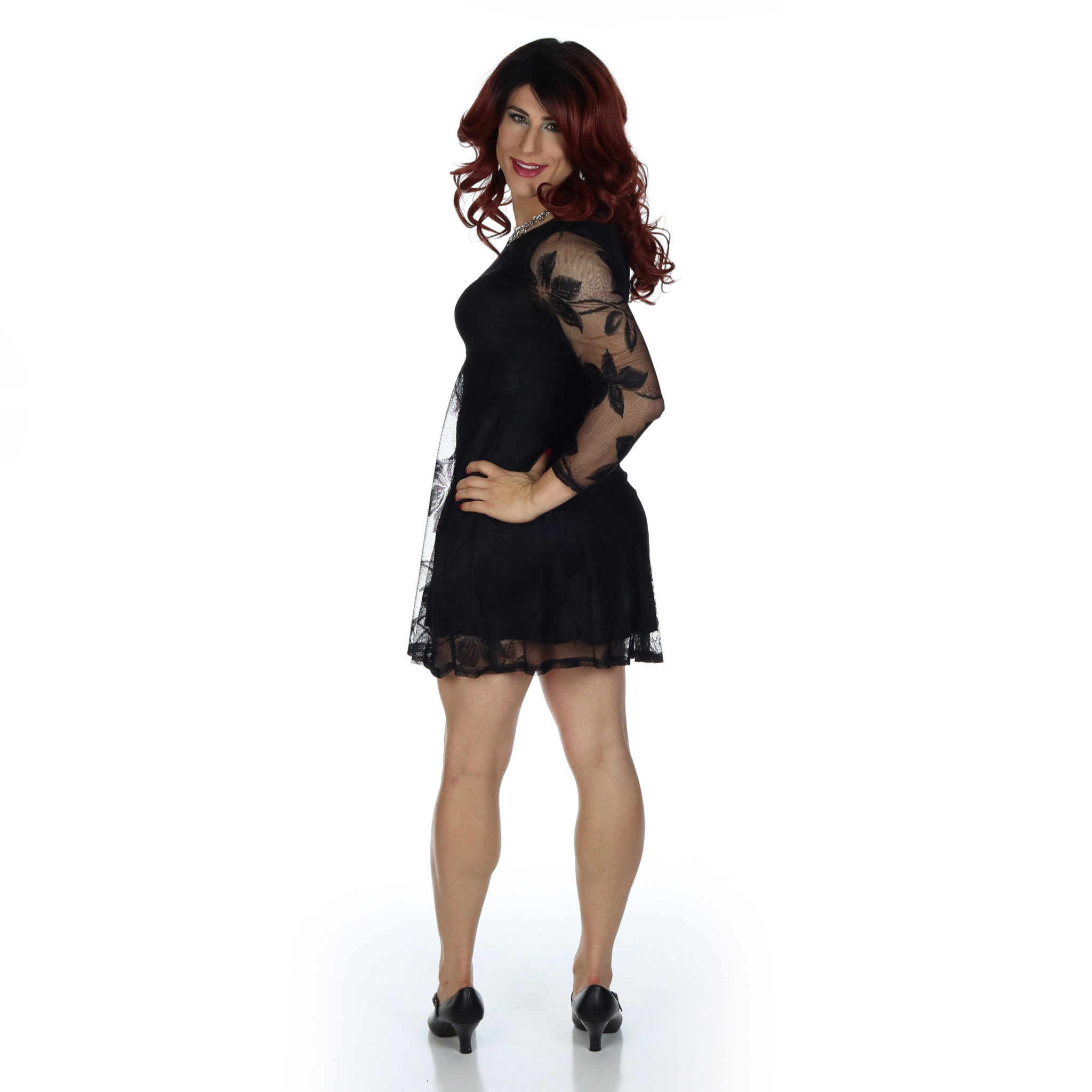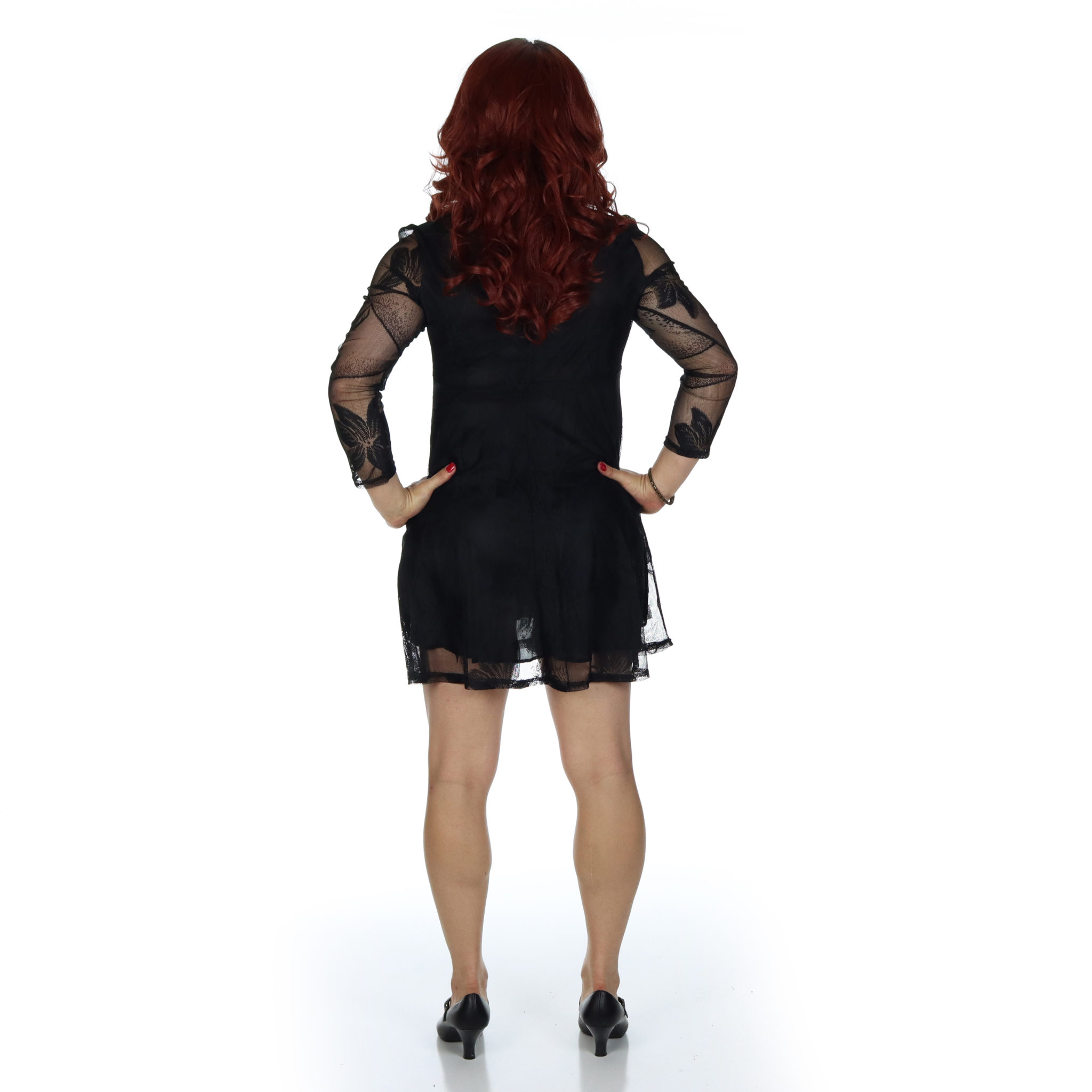 Crossdresser Little Black Dress with Lacy Brocade
Solid sheath dress with lacy floral overlay
Long sleeves
Mid-thigh length
Pairs beautifully with Mary Jane shoes
Available in sizes 2X to 5X
Description
Crossdresser Little Black Dress
Oh so cute! This Little Black Dress is adorable with Mary Jane Pumps, and accessorized with a sweet necklace or bracelet from our line of adjustable crossdresser jewelry. The solid black sheath is the foundation, with a lacy floral brocade overlay with long sleeves. Flirty and innocent, you're sure to feel like a real lady while wearing this feminine Crossdresser Little Black Dress.
Reviewed by Diana
This crossdresser little black dress is definitely sexy enough for the club, but it's also something that I could wear to a fancy restaurant, or dinner party.
This dress is very short, so get ready to show off some legs! Believe it or not, genetic males tend to have very nice, shapely legs. In contrast, many women have scrawny legs with poor definition. Next time, I'll probably wear taller heels, possibly in nude, to exaggerate my legs even more. I might even add a temporary tattoo! Even if you have hairy legs, you can still pull off this crossdresser little black dress by adding a pair or two of our opaque dance tights.
The high neckline allows me to forgo doing my cleavage. This dress is a natural choice when I'm running late, or when I don't want to be taped up for extended periods of time.
I modeled this dress with my short silicone hip pads and silicone butt pads. Standard length hip pads can work too, but you would want to cover them with two pairs of dance tights.
As a rock climber, I'm always self-conscious of my large biceps. Fortunately, this outfit covers my arms with black lace, which is a natural slimming color.
Check out our Crossdresser Dress Guide for more tips and tricks.
Size Chart
| Size | Waist | Length | Bust | Shoulders | Sleeve |
| --- | --- | --- | --- | --- | --- |
| 2X | 33″ | 35.8″ | 39″ | 14.9″ | 23.6″ |
| 3X | 35″ | 36.2″ | 41″ | 15.3″ | 24″ |
| 4X | 36″ | 36.6″ | 42″ | 15.7″ | 24.4″ |
| 5X | 38″ | 37″ | 44″ | 16.1″ | 24.8″ |