Foundation Review
Dresstech
I've been a Dermablend girl for years; I had found something that worked, and I never looked back… until now.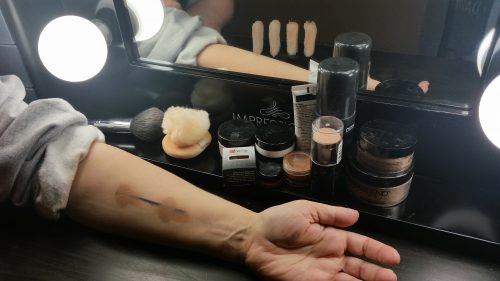 As part of my job at DressTech, I have the opportunity to try many great products. This week, I compared full coverage foundation from Dermablend, Mehron, Ben Nye and Kryolan. What does full-coverage mean anyway? Coverage refers to the the level of opacity and pigmentation. "Sheer" has the least coverage, followed by "light", "medium" and "full". Full coverage foundation may contain up to 35% pigment which is exactly what we need for heavy-duty applications, such as covering beard shadow.
How did they perform? All of the foundations performed similarly in terms of coverage; I was hard-pressed to find much difference in opacity. That's not surprising because all of the brands pretty much rely on the same basic minerals for pigmentation.
Indeed, the most obvious differences were found in packaging and consistency; how hard or how creamy. After considering these factors, the Mehron CreamBlend stick nudged out an overall win.
As the name implies, the Mehron CreamBlend Stick is indeed creamy. It promptly melts to a creamy consistency and blends rather easily. In fact, I was able to use CreamBlend on my entire face, applying a full coverage over my beard shadow and blending to a lighter coverage on the remainder of my face. In contrast, it was necessary to vigorously rub my formerly "go-to" DermaBlend, just to reach a workable state. Then, although DermaBlend did effectively cover my beard shadow, it made other areas look cakey.
I'm also a new fan of stick packaging, which allows me to quickly apply my "war paint" with a few quick wipes, and then blend away with my fingers or sponge. Transferring DermaBlend to my face required my fingers to make countless trips to a little jar.
Overall, I preferred the creamy consistency and blending of the Mehron CreamBlend Stick. The stick packaging won additional points for speed and convenience. After all of these years, I now consider myself a Mehron girl.