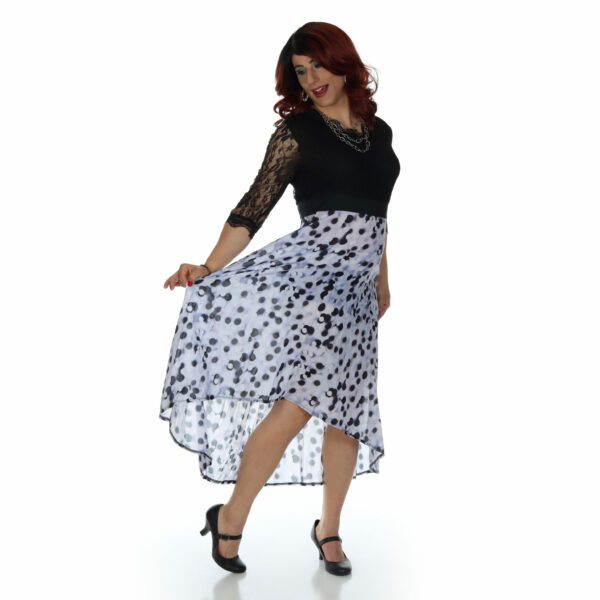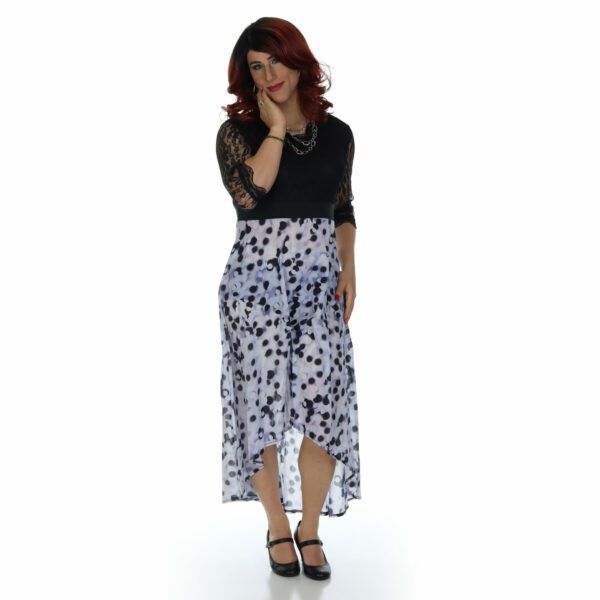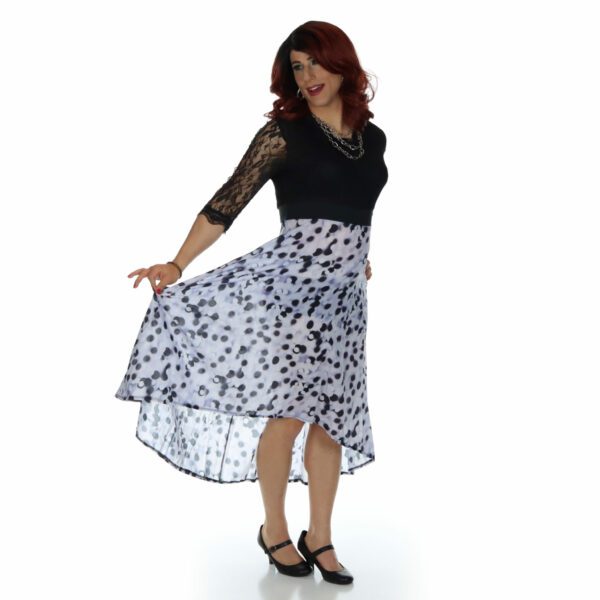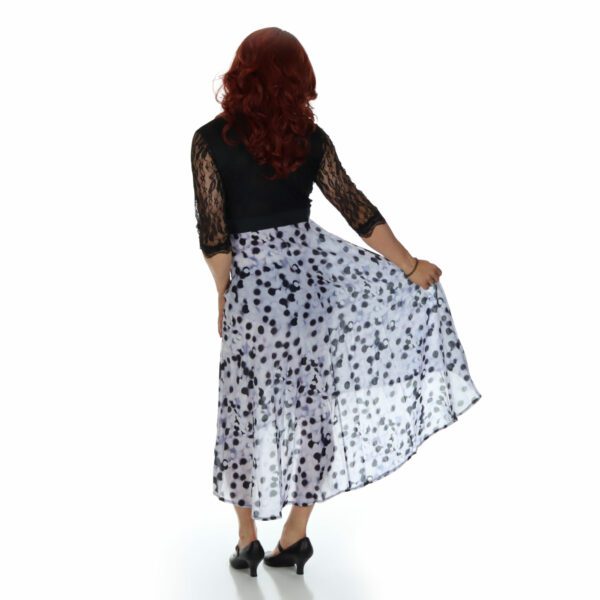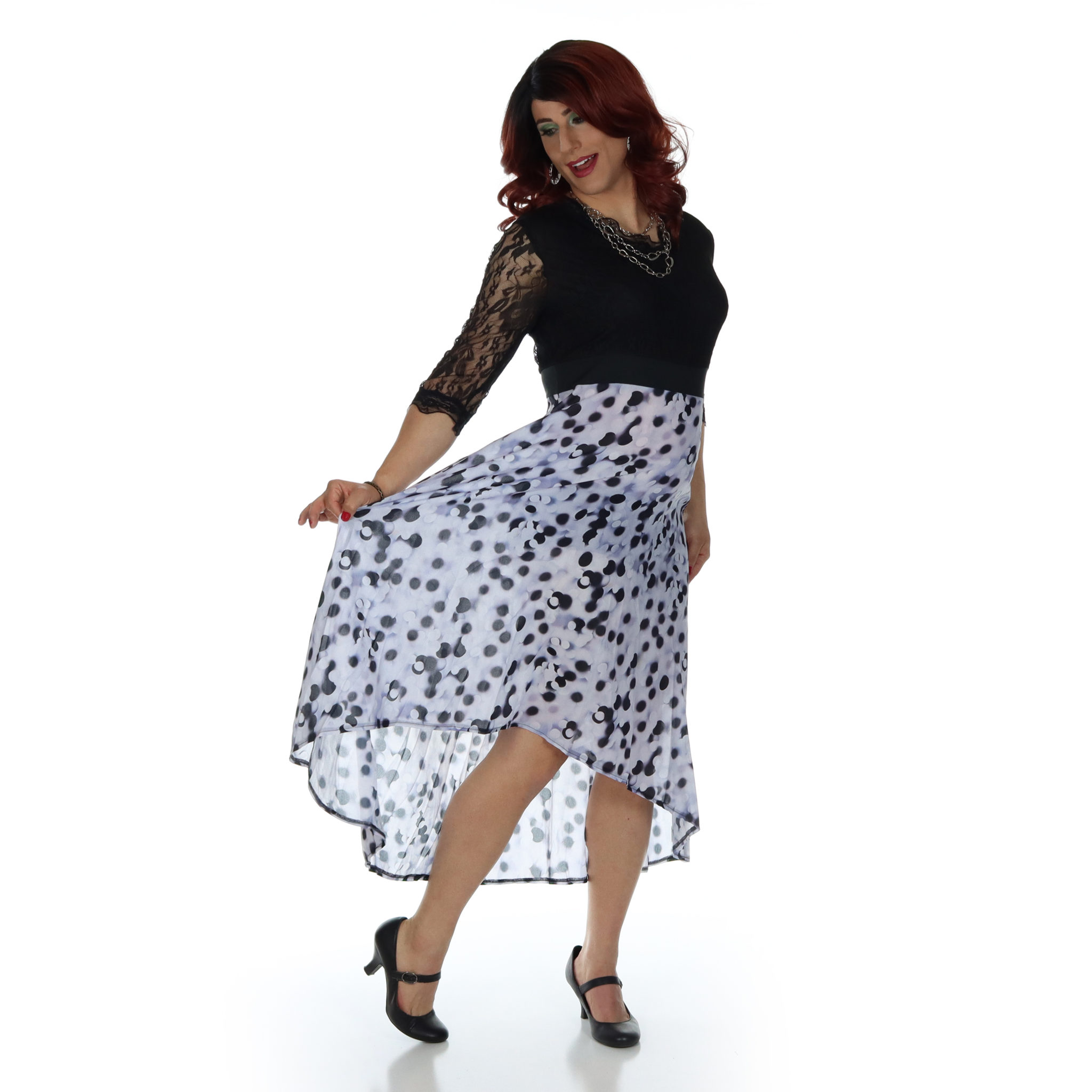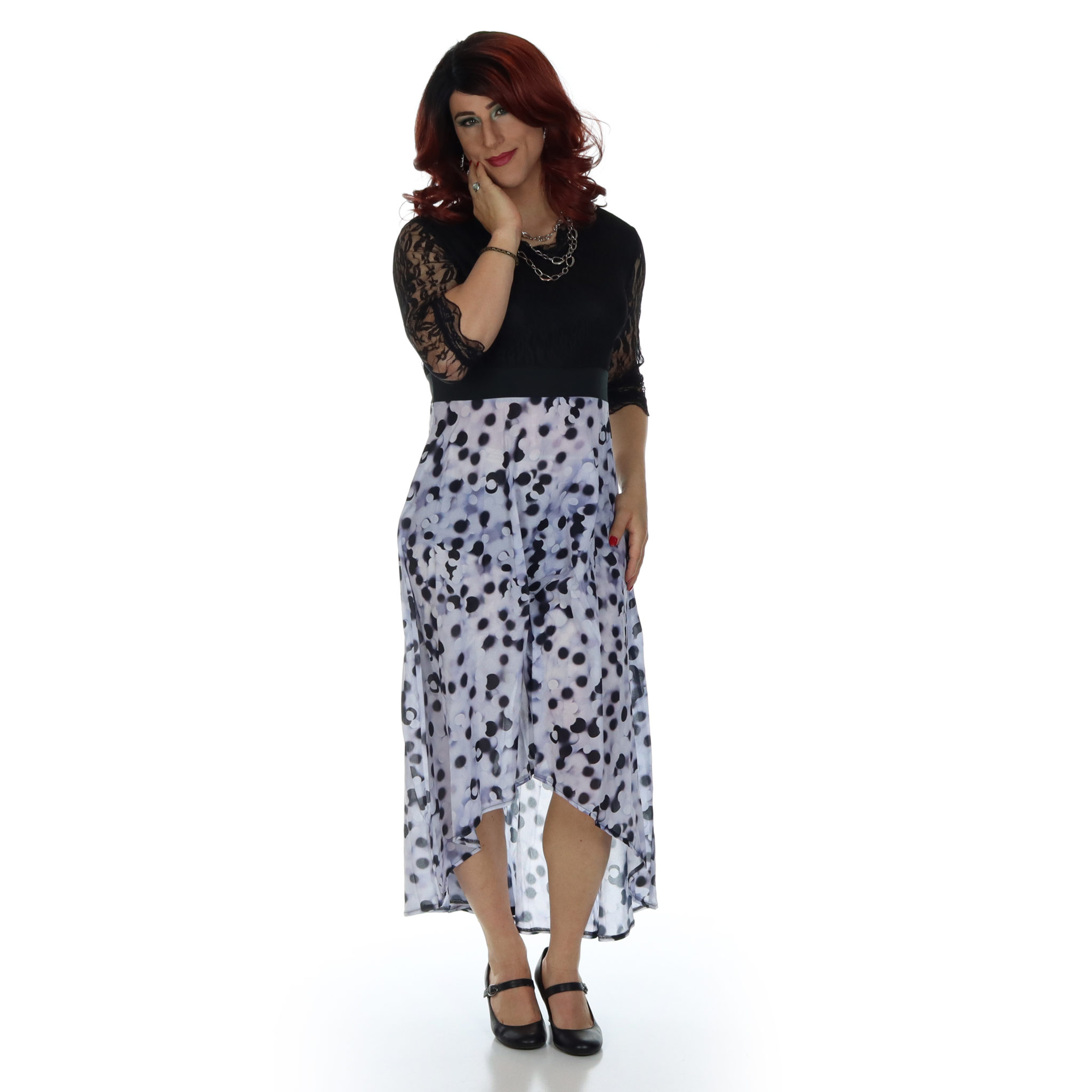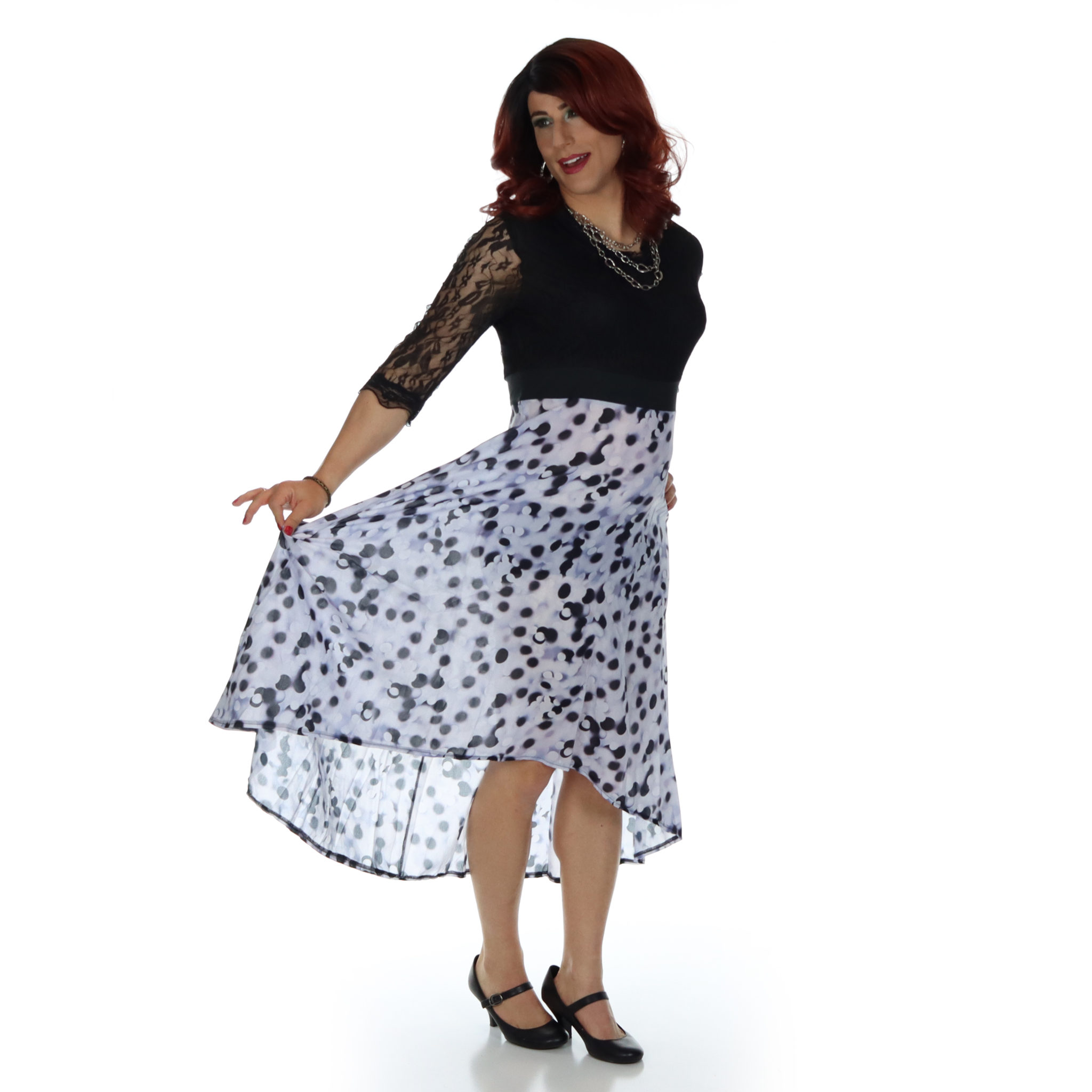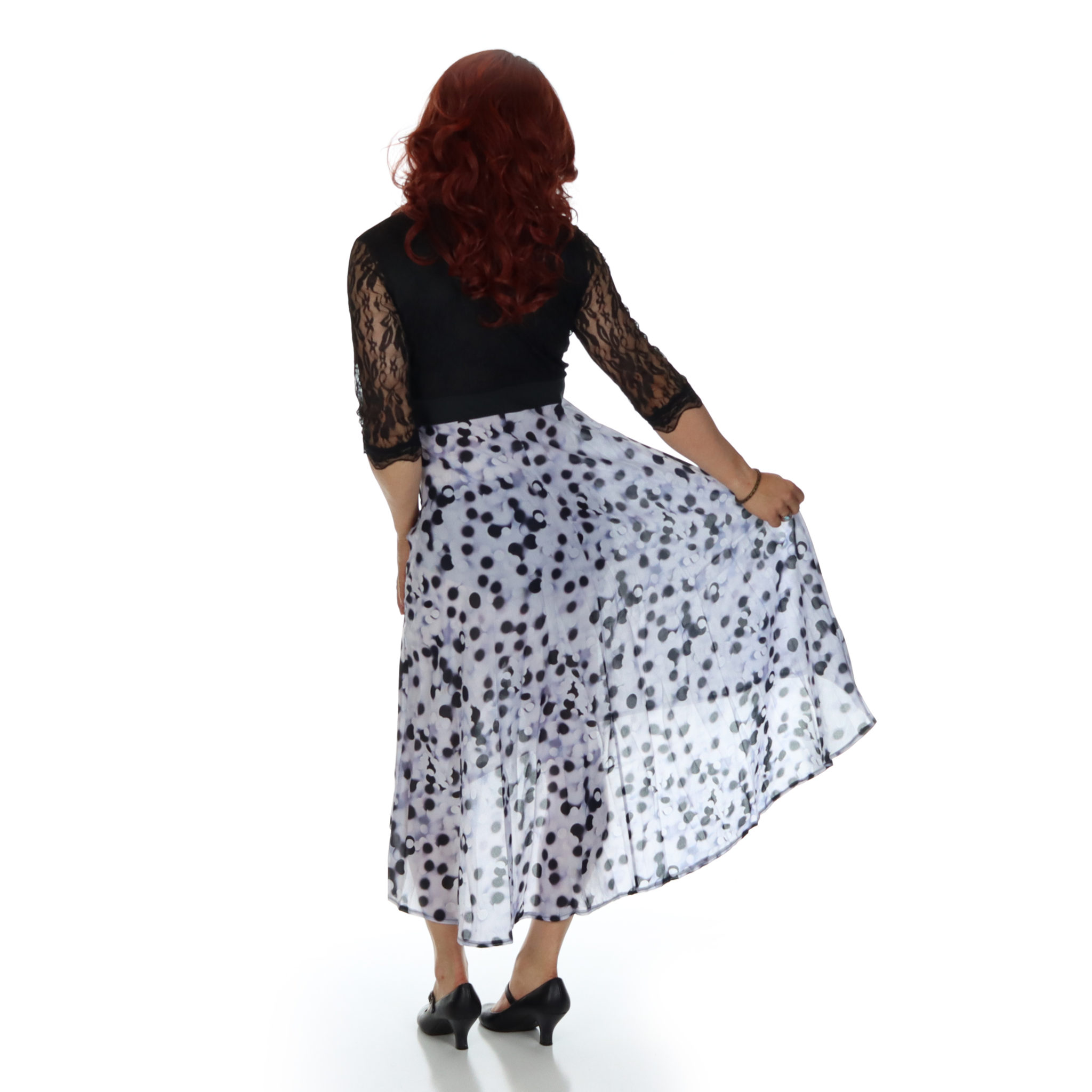 Vintage Dress for Crossdressers
Vintage Crossdresser Dress
Black lacy top with 3/4 sleeves
Feminine, flouncy, polka dot skirt
Available in sizes 2X – 5X
Description
Vintage Dress: Polka dots and lace
Swing dancing anyone? This lovely vintage dress boasts a black lacy top with 3/4 length sleeves. The dark sleeves have a slimming effect on defined arms and biceps, making this dress a natural choice for crossdressers. A flouncy black and white polka dotted skirt completes this feminine look. The hemline is shorter in front and longer in back, which is a classic look. The skirt also has a beautiful lightweight flow and looks great while you are in motion.
The bodice of the top is solid black, while the sleeves are sheer and lacy, with black dots that echo the black and white polka dots on the skirt. This skirt has a high waistline, lending to the appearance of the shorter torso of genetic women.
Helpful Tip
Did you know that rubbing your pantyhose or tights down with the tiniest amount of hand lotion will break the static bond and prevent your skirts from clinging to your legs? It's an awesome little life hack that every woman needs to know! Check out this Crossdresser Dress Guide for more tips on dressing sharp.
Diana's Review
What do I love most about this vintage dress? This dress flows! The natural movement looks great, whether I'm dancing, twirling, or strutting.
By the way, it's not as transparent as it seems in my pictures. The white studio backdrop provided lot's of back lighting.
I'm a big fan of black sleeves. Black is a slimming color and naturally makes my biceps look a little more slender. Now… if I can just find someone to go swing dancing with.
The conservative neckline means that I don't need to tape and contour my cleavage. That saves time when getting dolled up, and it makes sure that I'm comfortable all day.
I wore this dress would be nicely matched with vintage shoes from our Pinup Couture line.
Size Chart
| Size | Waist | Length | Bust |
| --- | --- | --- | --- |
| 2X | 35″ – 37″ | 45″ | 40″ |
| 3X | 37.5″ – 39″ | 45″ | 42″ |
| 4X | 39.5″ – 41″ | 45″ | 44″ |
| 5X | 41.5″ – 43″ | 46″ | 46″ |